Best Orthopaedic Surgery Hospital in Meerut

Department Of Orthopaedics
Joint Replacement & Sport Injuries
Orthopaedics is a branch of medicine that focuses on problems with bones, joints, muscles, ligaments, nerves, and other parts of the musculoskeletal system.
Well-stocked Medicine
High-tech Instruments
24 Hours Emergency Service
Cutting-edge Technology
Infrastructure & Services
The orthopaedics department of Nutema Hospital provides both non-surgical and surgical care. General orthopaedics Dr. H.K Dogra treats the hip & knee care, elbow & shoulder care, podiatry surgery, rheumatology, and pediatric orthopedic. The range of surgical operations includes Joint Replacement Surgery, Trauma & Fracture Surgery, Arthroscopic Surgery, Pediatric Orthopedic, Kyphoplasty, and Disc Replacement Surgery. Subspecialty operations include the treatment of congenital and developmental abnormalities in children, limb preservation and oncological reconstruction, hand and wrist diseases, and, if feasible, Nutema Hospital' minimally invasive treatments, which reduce discomfort and speed recovery. Patients are helped both before and after operation by the medical, nursing, and surgical staffs.
---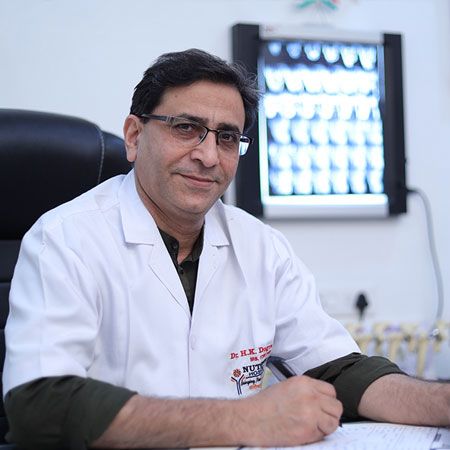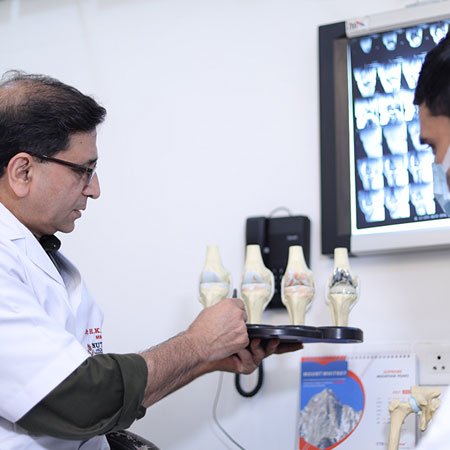 ---
Treatment & Procedures
Total Knee Replacement Surgery
This type of knee replacement surgery is also called knee arthroplasty or knee resurfacing. An artificial joint called a prosthesis is used to replace a damaged bone or cartilage in the kneecap, shinbone, or thighbone. Total hip replacement surgery, also called hip arthroplasty, replaces a damaged hip joint with a prosthesis or an artificial hip joint made of hard plastic, ceramic, or metal.
Revision Hip Replacement Surgery
During a revision hip replacement surgery, any worn-out parts from the first surgery are replaced.
Knee Replacement Surgery, Including Rotating Hinge Knee:
When there is an infection, the knee is unstable, the bone has been removed, etc., hinged implants for knee replacement prostheses are commonly used. Because the rotating bearings allow local joint reconstruction or segmental bone replacement, hinged implants are helpful in complex cases of total knee replacement revision.
Primary Complex Hip and Knee Replacement Surgery
This surgery is done on people with abnormal anatomy, bone loss, or soft tissue damage. This is frequently the result of secondary osteoarthritis, which worsens a basic condition.
Paediatric Orthopaedics
Sprengel Shoulder is a congenital disability in which the shoulder blade, or scapula, is too high and is unusually connected to the spine. This can make it hard to move the shoulder. Nutema Hospital has the best sports injury specialists in Meerut who can help you with Sprengel shoulder surgery.
Deformity Correction at Elbow/Wrist
The best way to fix a deformity at the elbow or wrist depends on the kind of deformity and how much it has moved.
A Madelung deformity is a congenital disability where the wrist grows in the wrong way. Radial Ray Anomalies: include a range of malformations, from radial hypoplasia (partial) to radial aplasia (complete) absence of the radius, radial carpal bones, or the thumb.
Macrodactyly is a birth defect in which the child's toes or fingers are abnormally big or swollen.
Microdactly is a congenital disability in which the child's toes or fingers are abnormally tiny or short.
Developmental dysplasia of the hip is an abnormal development that causes dysplasia (an underdeveloped acetabulum), a subluxation (partially moving the joint), and dislocation (moving the joint out of place).
The hip disease called Legg-Calve-Perthes happens when the femoral head of the hip joint doesn't get enough blood. This can cause the bone to weaken or die.
Pelvic Osteotomies and Proximal Femoral Osteotomies
Bone surgery, or osteotomies, is done on the proximal femur and pelvis to fix structural problems, relieve pain, and make the body work better.
Limb Lengthening Procedures
A patient with a leg length difference (one leg is shorter than the other) or bowed legs has limb lengthening surgery.
Rickets show up in children's bones when they don't get enough vitamin D over a long period. This makes the bones soft and weak. It can change how the bones look, like making the breastbone stick out or making the wrists and ankles thicker.
Correction of Knee or Ankle Deformities
Most knee or ankle deformities don't cause pain and can be easily fixed if found at a younger age.
Clubfoot is a developmental disorder of the foot that is also called CTEV (congenital talipes equinovarus).
Medicine for sports
Sports medicine focuses on treating and preventing injuries to the bones and joints during sports.
Knee
Cuts, torn ligaments, Sprains, broken bones, etc., are all common knee injuries. There are four main ligaments in the knee.
ACL (anterior cruciate ligament)
MCL (Medial collateral ligament)
PCL (posterior cruciate ligament
PLC (Posterior lateral complex)
Hip
Some injuries to the hip joint can heal on their own. But as time goes on, these injuries expose the bone, which hurts and makes the body stiff. Hip joint injuries can be treated with several minimally invasive procedures, such as making minor cuts or putting a tiny camera into the joint. Some of the steps are as follows:
• Femoro-Acetabular Impingement Correction
• Arthroscopic synovectomy
• Hip Replacement Surgery
• Arthroscopic Labral Repair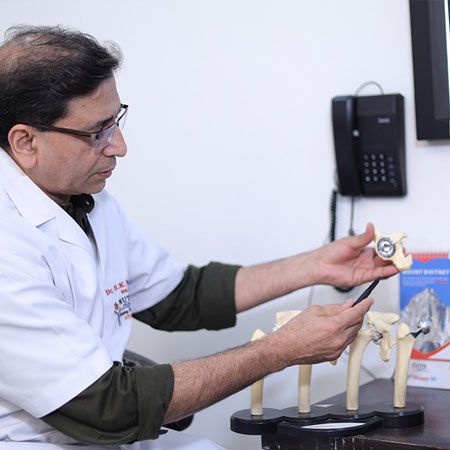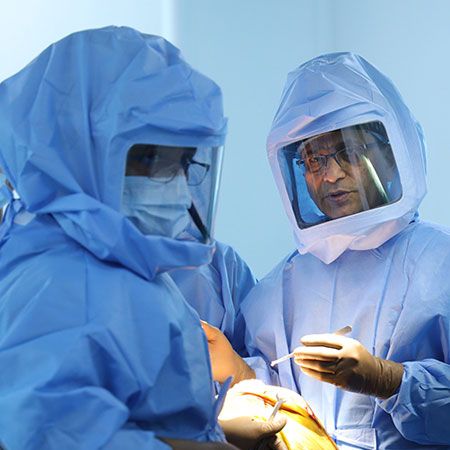 Trauma
tibia (shinbone), Breaks in the femur (thighbone), or humerus (upper arm bone).
Fractures near Major Joints: Tibial Pilon (distal part of the tibia)/Tibial plateau (upper part of the tibia).
Acetabulum and Pelvis were broken (socket of the hip bone).
Hip fractures: Dynamic Hip Screw (DHS), Hemiarthroplasty, and Proximal Femoral Nail (PFN).
Cancer of the muscles and bones
• Endoprosthetic reconstruction treats tumours in the muscles, bones, and joints.
• Amputations
• Extensive curettage is used when treating a juxta-articular giant cell tumour in the knee.
• Intercalary Graft Reconstruction is used to treat long bones with tumours cut out.
• Osteoarticular Allograft Reconstruction: Bone and cartilage from a donor are used to replace damaged cartilage.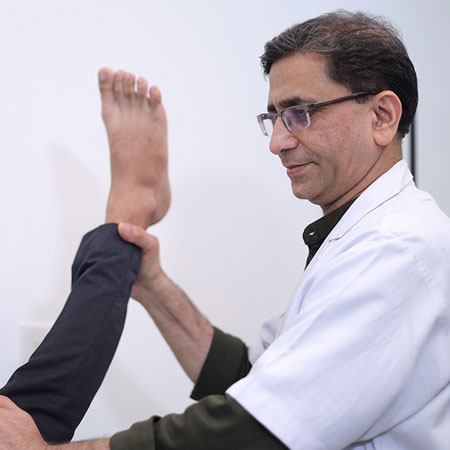 Why Nutema Hospital?
• Our department has a state-of-the-art infrastructure and the best team of orthopaedic surgeons in Meerut who are skilled at doing complicated surgeries.
• Nutema Hospital is the best orthopaedic hospital in Meerut. It has a dedicated theatre complex with operating rooms and a staff of highly trained technicians, nurses, guest relations officers, etc., who run the theatres.
• Patient safety and satisfaction are our top priorities, so our operating rooms have a double barrier to entry and exit and laminar flows that prevent contamination and keep the risk of infection at zero.
• Our software is easy to use and works quickly. It makes getting a patient's outpatient and inpatient summary easy and helps the different medical departments work together better.
• To keep people's knowledge up to date, there are regular meetings between departments, and staff training.
Related Doctors