Best Urology Hospital | Kidney Transplant Hospital Meerut

Department Of Urology & Kidney Transplant
The Department of Urology & Kidney Transplant at Nutema Hospital has a team of skilled Urologists who treat medical and surgical problems of the female and male urinary tract system and the male reproductive organs with the most up-to-date methods.
Dr. Shaleen Sharma and Dr. Sarat Chandra Garg are experts at treating conditions that affect the adrenal glands, kidneys, urethra, urinary bladder, and ureters. Our urologists have much experience with conditions that require surgery, like urinary tract infections, and conditions that do, like kidney stones (RIRS). We treat everything related to urology, from Urinary tract infections (UTI) to kidney or ureter stones to enlarged prostates and urethral strictures to erectile dysfunction.
---

---
The Department of Urology uses Uroflowmetry and Urodynamic Testing to check how well the bladder and urethra work. Nutema Hospital does laparoscopic surgery for kidney stones, urethroplasty and penile implants for erectile dysfunction, and laser and bipolar surgery for enlarged prostate. The urology team uses cutting-edge technology like small incisions and lasers to do complex surgeries.
The department has rooms just for endoscopic procedures. This ensures that patients get good care in a private and comfortable setting. The department is one of a kind because it has always used the most advanced technology in all subspecialties of urology, such as laparoscopic surgery, ESWL, laser surgery, and urodynamics, from the time it opened.
Treatments Available at Nutema Hospital
Infertility impotence
Kidney cancer
Urinary bladder stone
Ureteric stone
Stress incontinence
Penis and testis cancer
Erectile dysfunction
Vesicovaginal fistula
Prostate diseases
Prostate cancer
Kidney stone
Posterior urethral valves
Pyelonephritis
Urinary bladder cancer
Renal failure
Adrenal tumour
Epididymal-orchitis
Urinary tract infections
Ureteropelvic junction (UPJ) obstruction
Reflux disease
---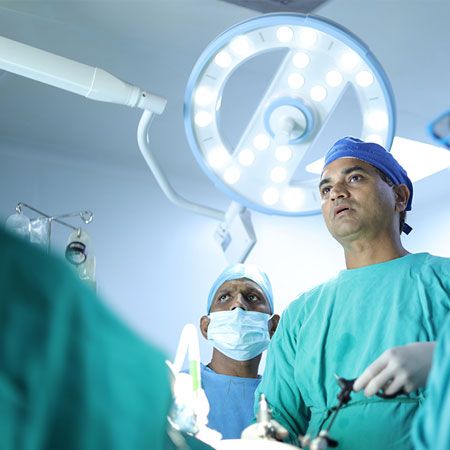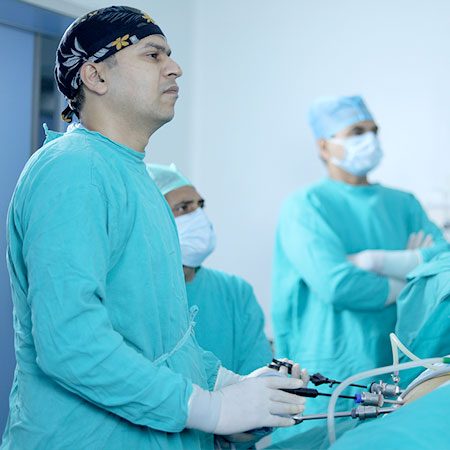 ---
Facilities & Services
Nutema Hospital have been the most comprehensive care provider in the state for all types of urological disorders, with services like Pediatric Urology, General Urology Services, Robotic and Laparoscopic Surgeries (including single-incision laparoscopic surgery), Treatment of Urological Cancers, Treatment of Urinary Continence in both females and males, Laser Treatment for Various Urological Problems, Comprehensive Stone Disease, Partial and Radical Cystectomy, All-technical Cystectomy. We use the following procedures in our hospital:
• PCNL
• Kidney transplant
• Lap Nephrolithotomy
• Lap Assisted PCNL
• Adrenalectomy
• Microsurgical varicocelectomy
• URSL
• Nephrectomy
• TURBT
• Partial nephrectomy
• Urethroplasty
• Ultra mini perc
• Ureteroscopy
• RIRS
• Cystolitholapaxy
• TURP bipolar
• Lap donor nephrectomy
• Orchidectomy
• Partial penectomy
• Miniperc
• Buccal mucosal urethroplasty
• Lap partial nephrectomy
• Lap Pyelolthotomy
Centre of Excellence: Urology
Urology, also called genitourinary surgery, is a type of surgery that treats problems with the urinary tract and the male reproductive system. Urologists are doctors who are trained to diagnose and treat problems with the genitourinary system. In some cases, they may also perform surgery such as kidney stone removal, prostate surgery and removal of bladder tumours.
Nutema Hospital is the best urology hospital in Meerut. It has the best urologists in Meerut, who can help you with all of your problems with your genitourinary system and give you the best possible solutions. Nutema Hospital is committed to maintaining patient-centred care and clinical excellence standards. We are proud that many people worldwide choose our hospital as their first choice for health care.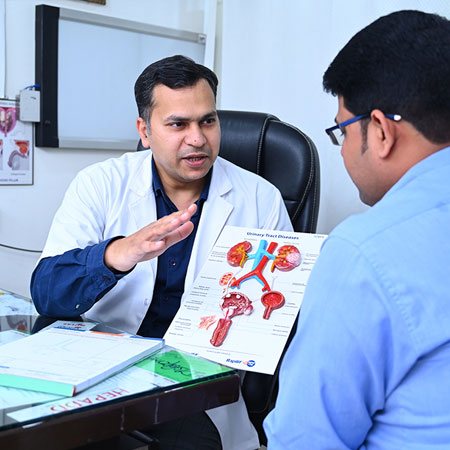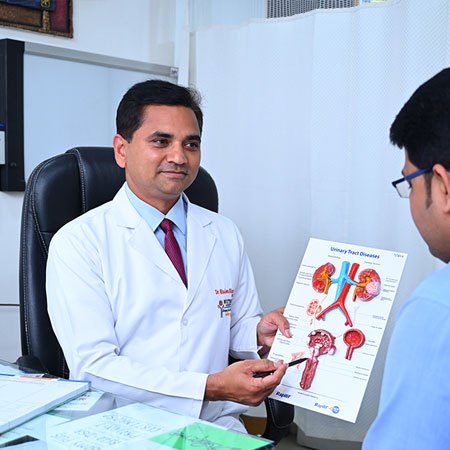 Transplant Medicine
Nutema Hospitals' urological department treats all kinds of urological problems with a multi-disciplinary approach. This includes female urology, minimally invasive surgeries, Uro-oncology, reconstructive urology, paediatric urology, and robotic surgery. They do this with cutting-edge technologies and equipment like urodynamic Machine, Modular OT, C-arm, 200 watt thulium laser, 50 watt holmium laser, digital flexible ureterorenoscopy, 19 fr 12 fr nephroscope, 8 fr 6 fr 4.5 fr semirigid URS, KLM bipolar generator, hormonic generator, carl zeiss microscope and olympus p7 ureterorenoscope, which is used to test people who have trouble urinating.
Why choose Nutema Hospital?
If you have chosen Nutema Hospital, be assured that you are in safe hands.
• The Urology department at Nutema Hospital offers as advanced and specialised care as anywhere else in the world.
• The Urology department at Nutema Hospital offers professional counselling, education, and consultation to both patients and their families to help them understand the problem.
• The best urologists at Nutema Hospitals are known worldwide for their ground-breaking work in reconstructive urology, uro-oncology, endourology, paediatric urology, andrology, renal transplants, and female neuro-urology.
• The department also offers complete diagnostic and treatment services for urological diseases in adults and children, such as urinary tract infections, urological cancers, and stone disorders.
• This department is the best example of how technology and human skill can work well together because it uses new ways of doing things. All surgeries are done using minimally invasive methods, to get the best results and help patients get better faster.
---
---
Related Doctors