Best ENT Surgeon | ENT Doctor in Meerut
About Dr. Renu Upadhyay
Dr. Renu Upadhyay is an ENT surgeon specializing in Impedance sound measuring, Assesment of Deafness, Transoral Laser Surgery Tympanoplasty, cochlear implant surgery, voice surgery, mastoidectomy, and stapedectomy procedures. She also has a super specialization in FESS surgeries. She has extensive training and experience as a surgeon. She is presently employed with Nutema Hospital in Meerut.
Dr. Renu Upadhyay is a kind and sympathetic person with a soft-spoken manner. She was the top student in the state of Uttar Pradesh for her 10th-grade exams in 1994 and 12th-grade exams in 1996. LLRM Medical College in Meerut is where she earned her MBBS degree.
Dr. Renu Upadhyay is effectively operating a non-governmental organization (NGO) for eye donation and body donation, which helps in the medical education of MBBS students, contributes to the national blindness control programme by educating people about donations and provides corneal donations. She is a frequent blood donor, and she has also organized blood donation camps for people in need who need blood.
Speciality

Proficient surgeon performing ENT procedures

Degrees

• MBBS • MS, ENT
• Fellowship in Laryngology .

Areas of Expertise

Ear (Otology)
Nose and Sinus (Rhinology)
Voice and Throat (Laryngology)
Thyroid Surgery
Dizziness and Vertigo (Neuro-otology)
Children (Paediatric) ENT
Head and Neck Disorders
Larygotracheal airway problem
Sleep apnea
Deafness
Hearing aids
Cochlear Implant

Office

Basement 1, Nutema Hospital, Meerut
---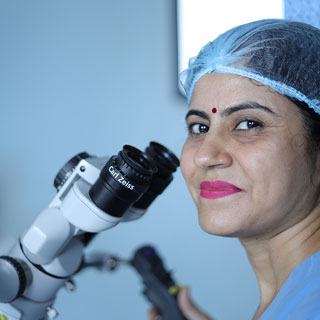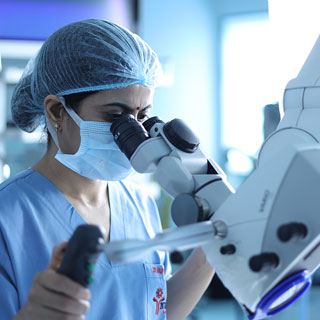 ---
Medical Education
Educational qualification of Dr. Renu Upadhyay
1997
MBBS
LLRM Medical College, Meerut.
Exceled in curricular and extracurricular activity
2005
MS, ENT
from KGMC, Lucknow
2008
PG Fellowship in laryngology
from Bombay Hospital, Mumbai
---
Special Interest
Special interest in Endoscopic Sinus Surgery
Endoscopic Sinus Surgery
Tympanoplasty
Mastoidectomy
Tonsillectomy
---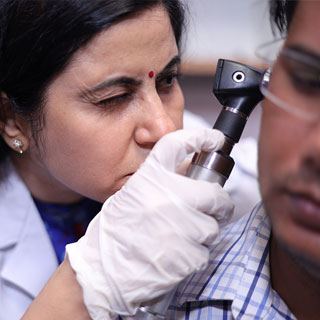 ---
Awards & Accomplishments:
• AOI Young achievers award 2019.
• Organized state and national level conference in ENT.
• Best paper award at the state AOI conference 2009 at GSVM Kanpur.
---
Affiliations, Associations and Membership details.
• Seven papers and publications in various National and International journals.
• Member IMA 2003 onwards.
• Member AOI 2008 onwards.
---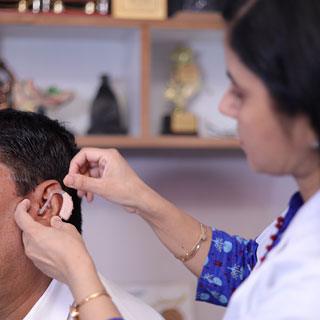 ---
Social Achievements and Recognitions.
• Successfully running an NGO For eye donation and body donation thereby helping in medical education education of MBBS students, helping in national blindness control program by Educating people about I donations and thereby-providing corneal donations.
---